There are a number of events of both cycling and velomobile interest in the next few weeks. Of particular interest this year is the 7th International Velomobile Seminar to be held in Dronten in the Netherlands. Velomobiles.co.uk is pleased to announce that we are registered to attend and expect to be able to report on all aspects.
Dronten is home to 3 of the 4 principal Dutch Velomobile Manufacturers, Velomobiel, Alligt and Flevobike, so the location makes perfect sence. The venue is De Meerpaal, a large event and conference centre, which is located in the centre of Dronten, not far from the town bus station.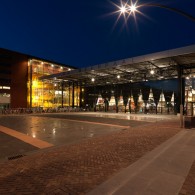 The seminars have been held periodically since 1993 and serve to bring together manufacturers, users, policy makers and any one else with in interest in human powered transport and velomobiles in particular. The purpose being to share knowledge and best practice in both technical aspects and also social acceptance of the velomobile concept.
| Number | Location | Year |
| --- | --- | --- |
| 1st | Copenhagen, DK | 1993 |
| 2nd | Laupen Castle, CH | 1994 |
| 3rd | Roskilde, DK | 1998 |
| 4th | Intelaken, CH | 1999 |
| 5th | Gemersheim, DE | 2004 |
| 6th | Copenhagen, DK | 2009 |
| 7th | Dronten, NL | 2012 |
This year's event builds on previous seminars with two days of papers and presentations followed by a social gathering, at which there will be an attempt to break the Guinness World Record of the number of velomobiles gathered in one place. According to the provisional schedule Day 1 (6th September) focuses on the social and environmental aspects, particularly the World Class Dutch Infrastructure. Day 2 (7th September) is dedicated to technical presentations. Day 3 (8th September) hosts the record attempt and a velomobile tour.
Along side the seminar there will be an exhibition space both for the trade and enthusiasts with home builders welcome to exhibit their creations.
Registration for the event is not difficult, though it is a bit convoluted. You must first register an identity on the Dutch HPV Association website ligtfiets.net, which then allows you to subscribe on the event pages for either the seminar or the social gathering. Of course you are welcome to register for both! Payment details are then emailed to you. Preferred payment is by bank transfer and it was here that I had some difficulty, as my UK bank was requesting more information than was available in the registration email. Since it is Velomobiel that are providing the payment service for seminar registration, I was able to communicate with Ymte Sijbrandij directly, and complete my payment via Paypal.
So check back here on the 6th, 7th & 8th of September for our view from the centre of the velomobile world.