By all accounts the seminar and tour went very well.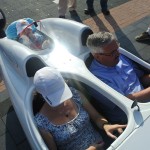 There was a favourable report in the Dutch press and, the Mayor of Dronten, after describing industry as, "These are people who look at life differently. They do not wait, but just do it," himself joined the tour, riding for a short way in the DuoQuest.
The official 2012 Velomobile Seminar blog, among other things, concluded that:
Both the Location in Dronten and the Venue, der Meerpaal were ideal.
Organisation and support were excellent
The tour

had good weather
was a well chosen route
and was a good advert for the velomobile

The Mayor of Dronten gave an inspiring speech
Reading between the lines, and from comments on other sites, there are plans to do it again, and sooner rather than later!
Fietsdiensten.nl, a Dutch site dedicated to the promotion of cycles as a realistic alternative to motorised vehicles, have a page covering the Seminar including links to several photo galleries.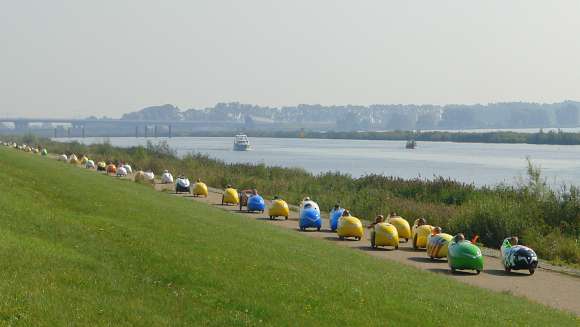 A pretty thorough report, courtesy of Google Translate, is on Theo van Goor's blog.
The seminar itself had a mixture of presentations, something for everyone, ranging from practical reports through to social theory and in depth technical papers.  It is expected that the proceedings of the seminar will be made available on the Seminar Website.  A few papers and slides were already available for download via the program page and a couple of Power Point slide presentations of papers are also available from the presenter's own websites.
First, Wim Schermer's paper on the Velo Tilt concept velomobile, to be built on the Fast FWD Munzo tilting trike, is available as a series of images on his blog.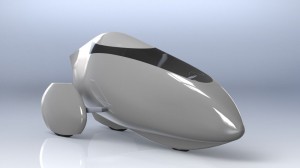 Second, Titus van der Brink's presentation on the development of his Plywood Velomobile, is available as a .ppt download from his original post.  He also has some brief comments on the Seminar.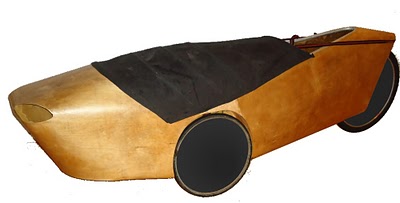 Alexander Vittouris and Mark Richardson from Australia, whose paper is already available, took the sustainability idea of the velomobile to the next level with a paper presenting ideas for bamboo construction.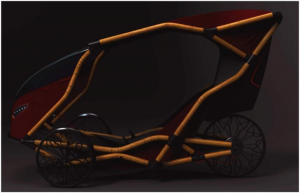 The seminar concluded with what sounds like a very interesting presentation by Miles Kingsbury covering many of his projects of the last 40 years.  Naturally his Quattro four wheel velomobile which travelled across the US in the ROAM of 2011 was featured.