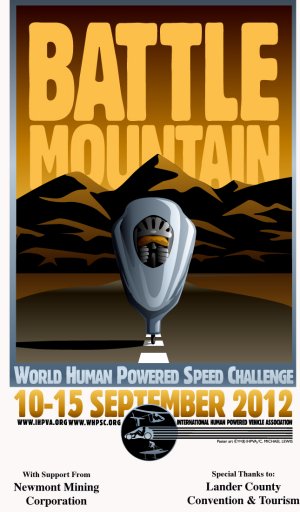 The 2012 World Human Powered Speed Challenge at Battle Mountain comes to a close today.   Official results are tabulated here with breaking news from the blog of one of the offical timers.  There have been no records broken as yet, but a new record has been set.
As well as the high profile withdrawal, for this year at least, of Graeme Obree, Sam Whittingham has also decided to give this year a miss.  After defending and advancing his record for 12 years, he has decided that 13 would be 1 year too many.  None-the-less there has been a full field with teams from all over, but have been beset with technical and weather problems, with a number of crashes and "illegal" winds.
The team from Trisled in Australia, brought two machines, a bike (Nitro Glycerine) and a trike (Completely Overzealous).  Though Trisled are competing at Battle Mountain for the first time their have already honed their skills to a high level in the well developed Australian human powered racing scene.  Conventional wisdom has gone the route of dropping the third wheel to save rolling resistance anf hopefully also reduce cross-section.  It has no doubt come as a supprise therefore to many that Trisled's trike powered by Gareth Hanks has bested 70 mph to set a record for three wheels of 71.79 mph.  This achievement has been recognised by the IHPVA who have upgraded the rules to recognise fully faired three wheels, as a separate class.  Well-done to the Trisled team for showing that there is still life in the conventional velomobile format!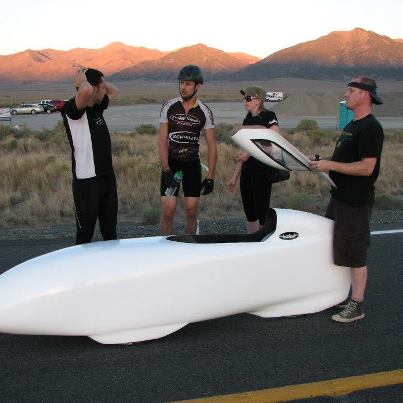 The Dutch team from Delft with VeloX2 have not yet broken the record but are edging closer.  Jan Bos is now the third fastest human.
More next week once the dust has settled.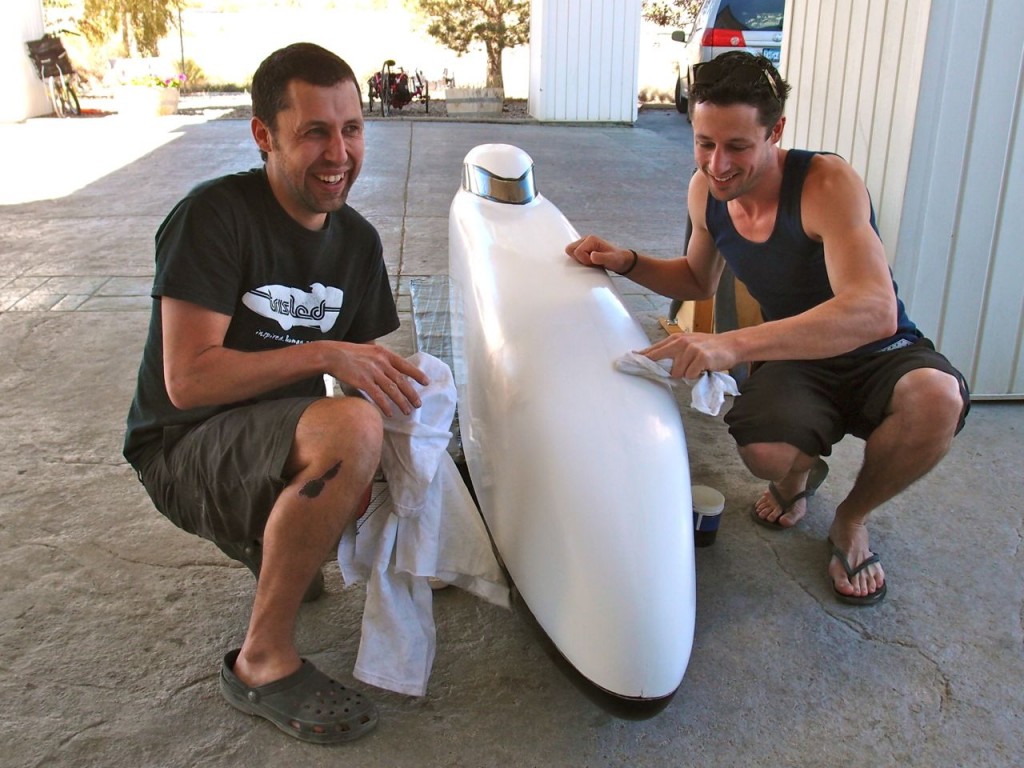 With thanks to Jun Nog for the photo's from her blog.  The secret to Trisled's succuess (beside their musceles)? – Wax!