A couple of news items from Holland.
Sinner to Cease Recumbent Bike Production?
According to Ligtfiets.net Sinner is to stop producing the Demon and Spirit recumbent bikes, instead concentrating their efforts on the Comfort delta trike and the Mango velomobile.  A quick review of the Sinner website turned up no information but Ligtfiets advise that existing stock of the Spirit and Demon will continue to be sold.
Mark 2 Sunrider is to be made available as a kit and branded the Alligt A9
Alligt have a photo of the new Sunrider body with the different elements highlighted in one of the three standard body colours.  There is a caveat that the actual shade of yellow will be slightly different from that shown, but it gives a nice idea of how the finished machine is assembled.  The most obvious changes are the the rear of the body with a squarer ending reminiscent of the Versatile/Orca but there are quite a number of other more subtle changes to the body which should improve water-tightness and sound.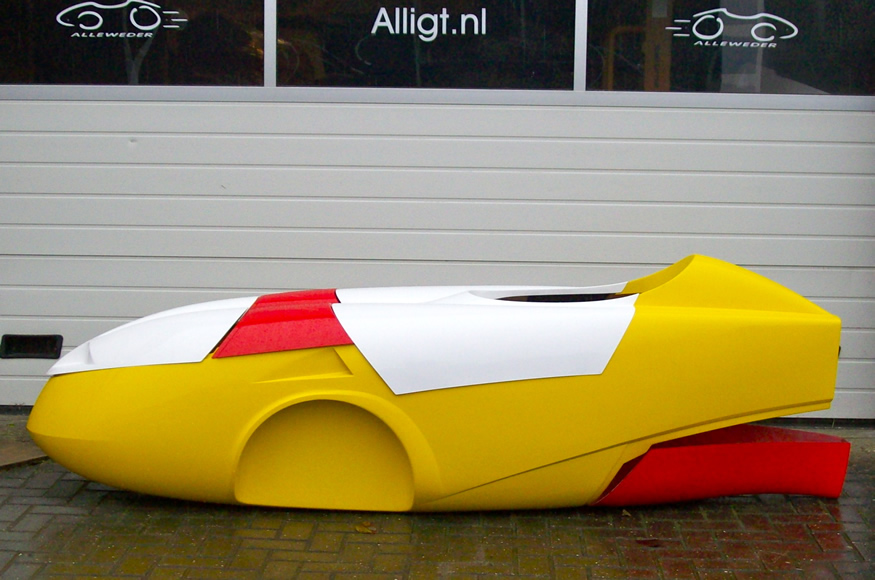 What is not visible here are the substantial sub-frame and numerous standard Alligt components that have been incorporated into the design.
The particularly interesting news is that the Sunrider will be available as a self build kit along side the A4, A6, A7 and A8.  Not too surprisingly the kit will be sold as the A9.
Prices in Euros are available via the Alligt website but to summarise, depending on options: the A9 kit will range from 4,195 to 7,395; and a completed Sunrider ranges from 6,595 to 8,895.  A "Moped" class Sunrider is also available suitable for type-approval in Germany for 10,595.