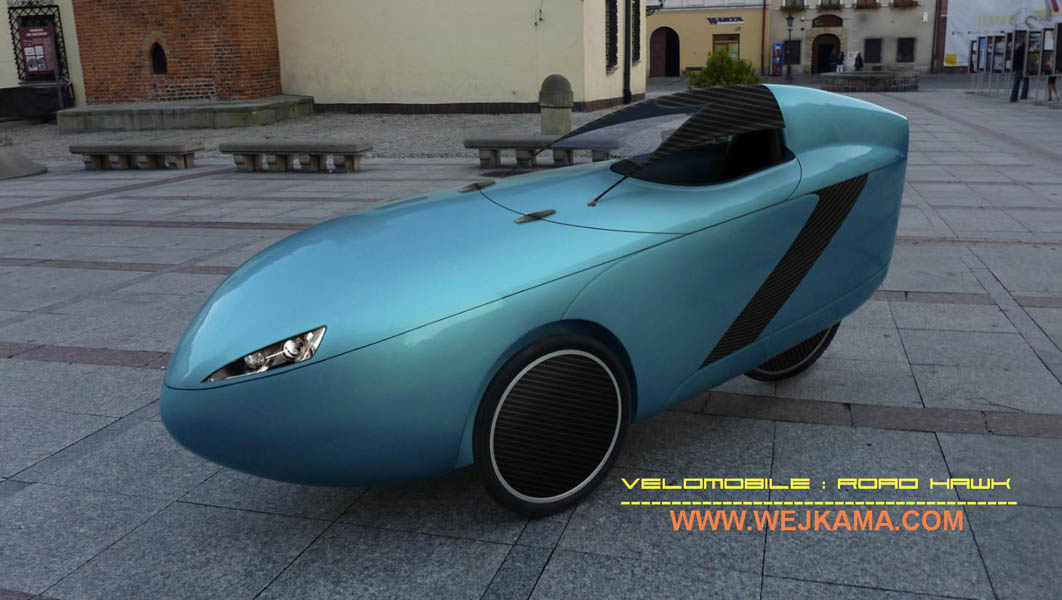 A new Velomobile design, the Road HAWK, is currently being developed by WEJKAMA, a company in Poland.  The company is well established, currently serving the automotive world with a number of fiberglass products products, principally a sleeping compartment that can be installed on a number of delivery vehicles for long distance freight haulage.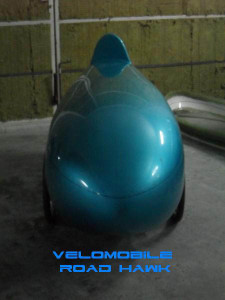 As an existing company with all the skills needed to produce velomobile bodies the potential looks good.  However the information on their website, while interesting, is rather scanty when it come to technical detail.  The image featured above is evidently a photo-mock-up, but it does appear to be based on a body prototype to which some wheels have been attached.  The hard part will be in getting the details right including successfully developing the mechanical side.
A short report on Ligfiets.net adds details about price (€4,500+) and weight.  They also make an interesting comparison with the Flevobike Orca and the Sunrider, currently under development with Alligt.  This is interesting since Alligt source their fibreglass bodies from a Polish supplier and WEJKAMA are also advertising  body-building services to other velomobile producers.  Whether WEJKAMA supply Alligt is not known but it does seem likely that they already have experience with some existing velomobile body construction.
At present there is one other known Polish velomobile producer, Car-Bike who used to supply the original Cab-Bike with their bodies, and then took over the production when Cab-bike ceased trading at the start of 2012.  Car-bike's website is similarly short on information and, after restyling the original Cab-bike and demonstrating a two-seater (sociable) velomobile at SPEZI in 2011, not much has been heard from them.  However there is word that this may be about to change.  There is also talk that they may revert to the original Cab-bike name as the Car-bike name is already owned in Germany by the developers of a human-electric hybrid multi-seater vehicle.

The above drawings, from Wejkama's site, also indicate plans to offer the Road HAWK in multiple configurations with both a head-in, "Cabin," as well as a head-out, "Cabrio," model.  Similar to Wejkama, Car-bike/Cab-bike also offer(ed) a Cabin and a Cabrio model and one cannot help making a connection.  We await with interest to see how the Road HAWK continues to develop this year.