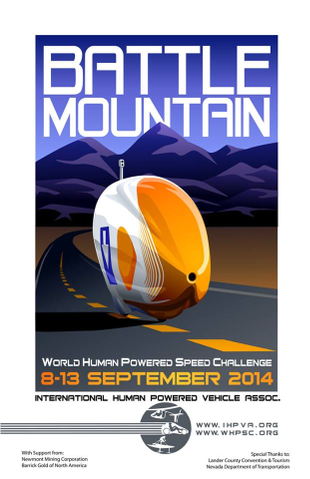 The 2014 World Human Powered Speed Challenge, organised by the IHPVA and held annually outside the town of Battle Mountain in the US State of Nevada, starts on Monday 8th, and promises a week of interest as several International teams of engineers, technicians and athletes compete to set records and push the speed boundary achievable by human power alone.
It has been two years since we last reported on Battle Mountain and the last two occasions set new records in several categories and served to raise the public profile of the event.  The 2013 WHPSC was significant as a new top speed world record was set by Sebastiaan Bowier of Human Power Team Delft, in the Velox 3, with a speed of 83.13 mph, displacing long time record holder Sam Whittingham.  A depiction of the Velox 3 is featured on this years WHPSC poster.  Human Power Team Delft and Sebastiaan are back this year with a new machine, the Velox 4, and two new riders.  Sam Whittingham has suffer a couple of injuries recently and will not be competing this year, however Varna builder Georgi Georgiev will be there with female world speed record holder Barbara Buatois, to defend and/or extend her title.  After pulling out of the 2012 WHPSC, Graeme Obree did compete in 2013.  While not achieving his stated aim of 100 mph, he was successful in setting a new prone rider world speed record as well as drawing media attention to the event as a whole.
Additional teams include: Team Cygnus, also from the Netherlands; a Canadian partnership between the HPV development lab AeroVelo and the University of Toronto with their ETA which used Kickstarter to raise funds for the build; a team from Russia; and several other teams and individuals from the US, Europe and the UK.  Not wishing to jump ahead too far but a couple of similar university teams/partnerships to AeroVelo have plans to compete in 2015, but more of that when the time comes.
Lastly and by no means least, Australian velomobile manufacturer Trisled, who set a tricycle world record in Completely Overzealous in 2012, are back with a new and more advanced trike, All Overzealous, and the old trike has been passed on to a US team so it should be interesting to compare how each perform.
Results should be posted as usual on the WHPSC 2014 Results Page.
For any unfamiliar with the WHPSC, the following News clip provides a good, albeit dated, introduction.